I landed a job as a games designer at Clever Beans – the team responsible for one of my fave games of 2012 "When Vikings Attack".
FUNNY STORY: We went to E3 in 2012 (we: Caroline and myself) with our publishing bosses at Ripstone. Since they're ex-Sony we managed to sneak along to thing they held in their hotel's penthouse bar (I KNOW RIGHT, don't worry it's all downhill from here). We met the producers of When Vikings Attack (lovely chap) and got invited to both their private room at E3. It was like a Zelda trade quest. So we dropped the producers name at the door and went in. We played his game. We couldn't stop playing his game. Seriously, there we were at E3 with Halo Windows 8, No No Kunt, THE WII U but we just spent hours on this crazy game. We (remember, Caz and I) described it as the replacement for Worms; British, crazy fun, great in multiplayer, comic visuals.
(Oh wait it goes uphill now but only for a moment I promise)
That night, or a few nights later, we were invited to a big posh party at a champagne bar or something like that (might have been a fizzy white wine bar) and we got chatting to the team behind Vikings. Turns out they're based in my nearest town! It was the same night Valve hit me up. It was so eventful, here's a photo of me napping in the corner with CAZ.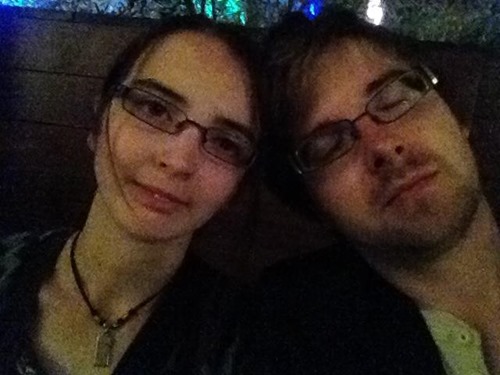 A couple of months later we (CAZ AND I) went back to do a spot of playtesting/balancing for Vikings. More months later I started working there!
tl;dr fly around the world to meet a studio that lives a few miles away from your home and get a job with them.
So what can you expect from here on? Well!
I'm working on a hobby project for Boss Baddie. Something closer to Sam and Big Sky than Lunnye and Wake. It's crazy and inspired by a genre I've always wanted to make a game in but it's quite high-budget, so I'm taking concepts I like from that genre and applying them elsewhere. I think it's a pretty cool little game – I hope you will too!
Caroline is still at Boss Baddie and has all my old design docs+concepts
I'm writing a book! A collection of short stories that started out as games. It's nothing heavy. I'll probably self-publish in a Kindle-friendly format
In time, you'll see what I've been up to at Clever Beans!
I'll be supporting my games with updates if they need them.
Tags: Life