After reading an article about Really Big Sky http://kotaku.com/really-big-sky/ and my older "Boss Baddie" games http://blog.gaming.stackexchange.com/2012/04/art-and-the-indie-game/, highlights were drawn to some of my design choices. It got me thinking about how I go about things.
1. Simple controls
2. Hybrid gameplay
3. Purposeful lack of explanation of gameplay events
4. A background story that isn't directly explained
1
I like to build games with simple foundations and controls. In Big Sky I removed as much as I could, boiling controls down to just two analogue sticks and a button to flip the drill. Wake is probably our most complex in terms of manoeuvrability, which really is as close to the original Tormishire as you're going to get.
All my games are built to use controllers, since I make games in genres that use them better than keyboards+mice. And the great thing about controllers is how simple you can make them.
2
Once the player has grasped the controls, gameplay is slowly fed to the player;
Lunnye the player is free to explore and do whatever they want, free of consequence. They can learn the world at their own pace.
Wake has a totally different tone to Lunnye. There's an urgency in the gameplay, but there is only one way to die – drowning. The player is free to roam around the ship with only a slight threat of being knocked out. Difficulty modes are also unlocked by completing the previous one, so the first mode any player will see is Easy, where water rises at a very slow pace.
Really Big Sky has that tutorial. But tutorial sections are not cool, so we built notifications in, spent a lot of time crafting readability and created a scalable difficulty. Gameplay starts off basic and slowly introduces the different threats.
3
And then! Then you're treated to something I value a lot – mystery!
In both Lunnye and Wake you have to make your way home, the clues are presented to the player and (such as in Wake) the solution is obvious.
In Really Big Sky there are just so many mad things. All of which were designed to shift gameplay at the drop of a hat or plan quick strategies. The events are random in appearance, scale and design. Most importantly they're never fully explained… unless you go through the Library. But even that doesn't offer much explanation.
Even the achievements are left without detailed explanation, offering only clues and references. And then there are the song unlocks which, seeing that they're just bonus content, have no such clues. Have you noticed that the Options graphic on the main menu has circular notches cut out? That's your mini notification of how many songs you have unlocked.
4
There is a story to Big Sky. I don't think anybody knows about it, or cares about it. But there is one and it's fully explained via the background. And remember the AI is exactly that – artificial.
Going back to my even earlier games, the story in New Satan Sam never explained the meteorites. Totally unrelated but TNSS was inspired by anime I watched as a kid including Dogtanian (art) and Battle of the Planets (story and setting, notably the moon invasion film).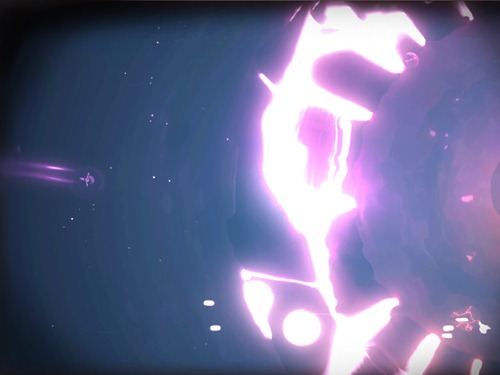 A lot of this comes from my own tastes. I like surprises – I don't watch film trailers, I don't watch those "in next weeks episode" sections to TV shows, I rarely watch gameplay trailers or read up on new games. The unknown is cool, don't you think? LOST is also one of my favourite things ever.
Tags: design, Games, Games industry