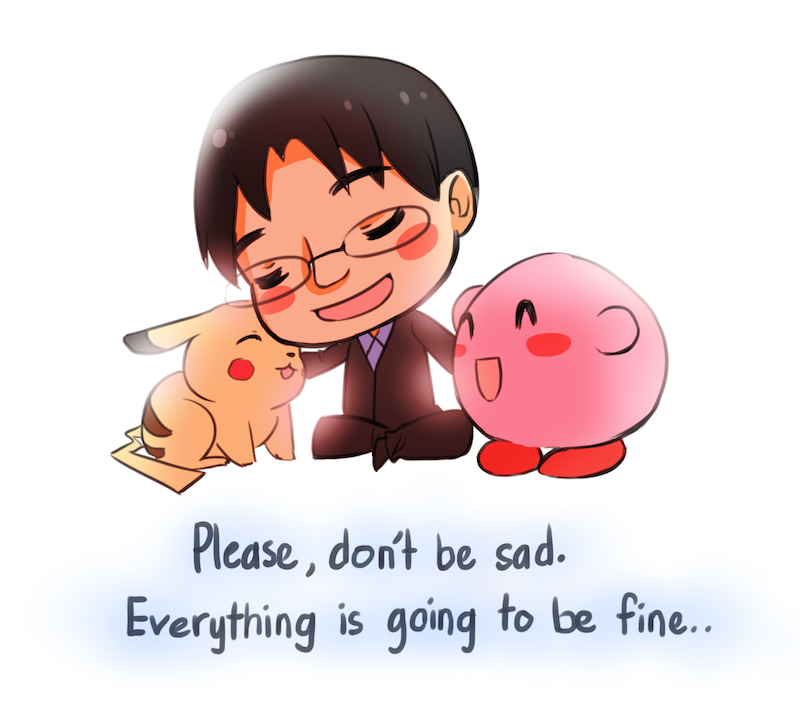 It's a shame Iwata is no longer with us. I'm going to try my best to word this but I'm doing this inbetween making games (I'm sure it's what he would have wanted).
I got a text last night simply saying "FUCKING NO". On autopilot I fired up Twitter and saw people tweeting their condolences regarding Iwata. It was a gut punch because he's such a huge character and because it was so unexpected. Instantly the internet lit up with illuminating articles and artwork.
Earlier that day I was out walking along a beach with my girlfriend clocking up 9 miles and some mild sunburns. I was ready to get into bed and finish my playthrough of Zelda Oracle of Seasons on the 3DS when I got that text message (I've got the originals but I'm really interested to find out how long it takes me to finish these games. The 3DS's log app is so useful!). The night before I did a playthrough on Kirby's Dreamland. Which is still one of my all time favourite games, it's simply unmatched with its soundtrack, whimsy. And it does something a lot of old (but playable) games do – show hints of a larger world, hide secrets in plain sight. It's those things that inspire me as a creator. I know I'll never make a game as good as them but I'm happy to live in a world where those originals do exist, where I can fire up Kirby's Dreamland and walk through easy mode in half an hour… or struggle to even get halfway into its "Hard mode".
I woke up this morning hoping it was a horrible dream.
So I'm spending the rest of the day ploughing through my own projects.
One thing that resonated with me was reading his programming stories. That he'd spend all night working, ordering takeaway… just doing normal things. In the past few years I've been trying to get away from that. Maybe that's why my current games are taking longer. Reading up on him and his adventures is enticing me to go back to the old days of going to bed at 4am, getting up at 10am, working to burnout. Maybe once in a while that's okay. Maybe it's not possible to gentrify development, after all it's just a creative mess of code and art and inspiration can strike at any time. He's also inspiring with his awkwardness, too often I waste energy trying to hide my own eccentricities, maybe we shouldn't, maybe we should get publically excited and fumble things in front of the camera. Maybe it's alright to take a bit of the vanish off.
I dunno. It's a strange one this. He really shouldn't have died.