Tuesday, May 24th, 2011
Well I'm still getting used to this new computer and Windows 7. I've been running it for just over a week now and yeah, I think it's quite good! There hasn't been a single thing this Quad-core i5 has balked at and the graphics card can run Crysis and GTAIV at native res on medium-high settings just perfectly. And native resolution is 2560×1440 by the way!
There are some bugs left to fix in the game again. I've added in a few more minor features-
Hell Mode- an alternator for all modes. During the event enemies become weaker but shoot out lasers in the direction they're facing. It lasts around 20 seconds and appears every 1-2 minutes.
Starbit Laser- collecting starbits charges it up, once you collect 150 of them you're free to fire. It shoots through anything ('cept bosses) and even absorbs enemy lasers. Psychological funtimes in multiplayer mode.
Game clock! Because every game needs one, in my opinion. But this one only counts the time you've spent in flight.
Mini achievements. Added little medals next to enemies that changes depending on how many times you've killed them.
There are 4 bugs left to fix before the next round of testing and maybe a couple more features to add. Depending on how well the final testers react we could be launching very soon indeed!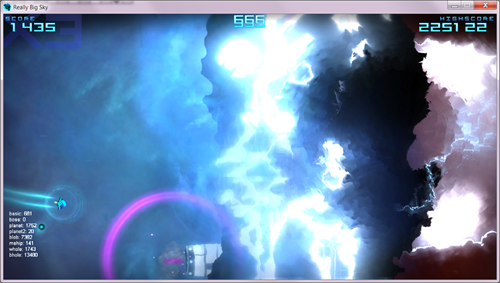 But let's have some Twitter style reviews of this machine!
Magic Trackpad- Great! Apple's laptops have oversized trackpads and this one is bigger still. Perfect in OSX, not so great in Windows 7.
Apple Magic Mouse- Surprisingly useful and definitely their best design yet. Again it's great in OSX, but under Windows 7 the touchpad area is a little too sensitive.
Apple Bluetooth Keyboard- Was going to give this away but found out it works with iPods. Smashing combination.
You really do get used to your display size though. I used to worry that 27" for a display would be too big. It isn't. It fills your vision but not overwhelmingly so, infact I set mine back and up the system's DPI. And Firefox+Safari haven't been in their default 100% zoom state since they were installed!